The Grand Moroccan Escapade will stop in some amazing places.
Morocco is a treasure-trove of astonishing variety: in one week on the Grand Moroccan Escapade we will explore the narrow old streets of Marrakesh, race across vast dunes of the Sahara desert, and party on the shores of the Atlantic ocean. We'll see many diverse landscapes, while driving on all sorts of different terrain, and staying in some incredible places. Of course, much of the adventure will occur between our stops, but still: let's run through the cities, town, and villages, where we will stay!
Marrakesh

Very few cities on earth share Marrakesh's reputation for tradition and mystery. Before we start our driving adventure, be sure to wander the narrows lanes of the ancient medina, soak in the atmosphere at the central Djemaa El Fna square, and shop at traditional souks. It's an intoxicating city, to which we'll be excited to return at the end of our adventure.
Ouarzazate
We cross the Atlas mountains to reach the imposing city of Ouarzazate, often known as the "door of the desert". It may seem unique, but to Hollywood producers it could be anywhere: it (or more specifically the nearby Aït-of Benhaddou kasbah) has provided a backdrop to films such as Gladiator, the Last Temptation of Christ, and Lawrence of Arabia. Some of Game of Thrones was shot here too.
Boumalne Dades 
The drive to Boumalne Dades will be one you'll remember for ever. We'll start on the "road of One Thousand Kasbahs" and continue through the "Valley of Roses". The town is well located for continuing our journey the next day.
Erg Chebbi
Erg Chebbi is special. This glorious sea of gigantic sand dunes, reaching heights of 150m, will not only provide a canvas for adventure, and a background for some sensational photos, but will actually also be where we sleep, in a traditional Berber camp under the stars. We'll stay here for a rest day, though rest isn't the right word, since we'll be exploring the dunes on quad bikes… or camels!
M'hamid el Ghizlane 
Travelers have been staying here for centuries. It's an oasis town, an old caravan stop, and once again we'll spend the night under the stars in a Berber camp.
Tata 
The name Tata originally means, roughly, "take a break", and you can easily understand why. Some of the scenery surrounding the town is spectacular, but it's still Saharan, and you can imagine the relief that traveler's will have felt when encountering this oasis.
Tafraoute 
Hidden among red-rocked mountains, Tafraoute may sound like a location from Star Wars, but in reality it's a friendly Berber town, where you can glimpse local Moroccan life, and if you're lucky, try the delicious local food.
Agadir 

And finally, we reach the Atlantic Ocean! This will be an experience unlike anywhere else we'll have been in Morocco. Here you can properly relax on the beach, stroll along the marina, or simply sip a beer staring out across the sea.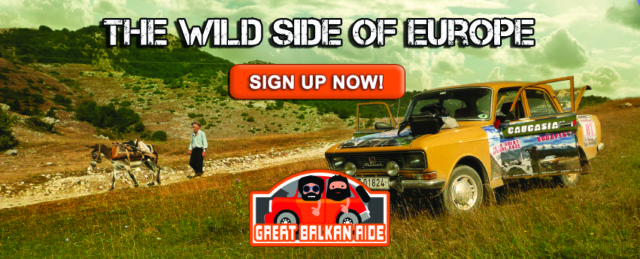 Are you crazy enough to come along for the ride? Then join us on
one of our next adventures
. Get a team together and let's see you at the starting line! If you want to join us in spirit, like us on
Facebook
or follow us on
Twitter
and
Instagram
to keep up with our latest antics.